Packing my suitcase and taking with me … I really wouldn't call myself a "minimalist", but I get along pretty well with little belongings. In everyday life I just feel more free, more relieved and therefore happier. I also enjoy spending money on good food and even better travel more than on the twentieth pair of shoes or the fifteenth sweater.
It's the same on holiday: travelling only with hand luggage not only makes me a lot more flexible, but also – at least for me – happier. No endless waiting at the baggage claim, no luggage that gets lost, no five suitcases that I have to carry around the world with me and take care of. Travelling with light luggage is not only less stressful, but also cheaper! The € 30,00 and more for the additional luggage I prefer to put in the travel budget. Additionally: The lighter the luggage, the lower the CO2 emissions – both via airplane and car.
It really isn't that difficult to travel with only hand luggage. Of course, one or two more thoughts about what to pack and put on have to be thought about beforehand, but here, too, routine comes in quickly.
Whether hand luggage is sufficient or not always depends on the country and the duration of the trip. I don't want to do a five-week trip through Vietnam alone with hand luggage. Especially since it is sometimes much more practical to climb mountains or hike through caves with a big backpack than with a small trolley. But if I fly to Albania for a week or to Lisbon for a long weekend, hand luggage is really all you need.
The maximum dimensions for hand luggage are 55 cm x 40 cm x 20 cm, so it's a good idea to buy a piece of luggage that matches these dimensions to make sure you don't have to have five different ones, depending on the airline. In addition, the net weight of the luggage is very important. Depending on the airline, the hand luggage (loaded) may not weigh more than 6 – 10 kg. So it makes sense to make sure that the net weight of the bag or suitcase is as low as possible.
Are you rather the trolley or the backpack type? You have to answer this question yourself. Both types are allowed as hand luggage. A backpack has the advantage of always having your hands free, because you always carry it on your back, the net weight is often much lower and you are not affected by road conditions (cobble stones, mud, etc.). The advantages of a trolley are that you are not sweaty on your back, because you carry 10 kg on yourself, you can generally pack more clearly and neatly and you don't look like a typical backpacker. Actually, I am the total backpack type (I own more backpacks than handbags (handbags I own exactly one)), but I bought a trolley now because the destinations I travel with hand luggage are absolutely suitable. Whether it was a wise investment will be seen.
Documents:

identity card or passport (visa if applicable)
(international) driving licence
health insurance card or international health insurance certificate
credit card to withdraw cash free of charge
ISIC (international student identification card)
flight ticket and booking confirmations (via airline app or as PDF)
In addition, I have scanned all documents and saved them as PDFs in my Dropbox to ensure access from anywhere at any time.
Liquids:
Since 2006, only small bottles with a capacity of 100 ml, packed in a resealable, transparent 1L bag, are allowed in hand luggage. In order to avoid unnecessary plastic waste, I don't buy the travel sizes in the drugstore every time anew, but have leak-proof, refillable silicone bottles. I am also starting my first attempts with hard soap for (curly) hair and body. Let's see how it works. I'll keep you posted.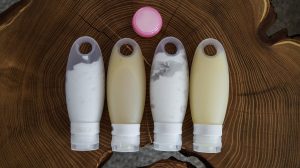 Should these run empty along the road, don't panic! You can buy the common beauty brands in any small town worldwide, no matter how outlying. Also the mascara, liquid concealer or mousse must fit in the bag in <100 ml sizes. Only one 1L bag per passenger is permitted. These are scanned separately at the security checkpoint, which is why you should keep them handy so as not to delay things unnecessarily. If you don't have a Ziplock bag at hand, you can buy it at the airport (way too expensive) or do it in advance at the drugstore or IKEA – of course a reusable bag made of more stable material is even better.
Electronics:
smartphone (+ charging cable)
powerbank (not in every country is the voltage high enough to recharge it)
headphones (+ splitter)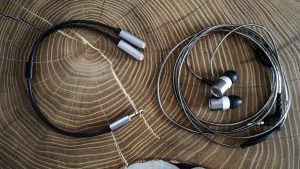 socket adapter, if required
eBook-Reader (Due to the battery life and the weight, I decided on the Tolino 2HD and was not disappointed so far.)
my beloved camera with my beloved lenses (+ charging cable and spare battery)

camera (with neoprene hand strap): Sony Alpha 58
standard lens: 18 – 55 mm
ultra wide-angle lens: 10 – 20 mm
telephoto lens: 70 – 300 mm
pancake lens: 35 mm / f 1.8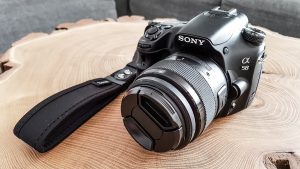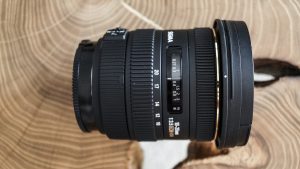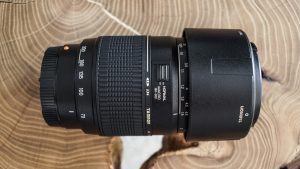 You should also keep the electronics handy, as they will also be scanned individually during the security check depending on the country.
Miscellaneous:
toilet bag / washing bag

What has to go in here, you have to know for yourself 🙂 My advice: Place everything you use in a pile on the morning before your departure, from which you can then choose what to take with you on the journey and what can stay at home. But you won't forget anything.
handwash paste

(inflatable) neck pillow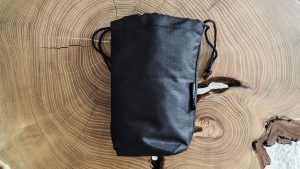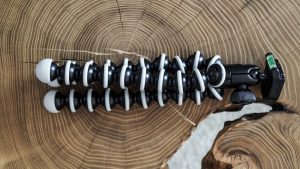 sunglasses
handbag / small backpack for day trips
reusable (foldable) water bottle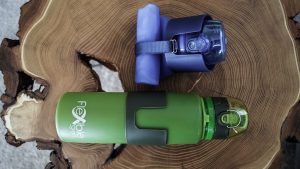 optional and depending on the destination: travel pharmacy (Especially in European countries, but also intercontinental, you can also buy them u

nproblematical

locally in the pharmacies and often buy the same products as in Germany.)
optional: clothes bag or jute bag for dirty laundry
optional: silk sleeping bag
Clothes:
The motto here is: quality instead of quantity and no room for "just in case". Think carefully about how many days you are on the road and what you have planned there. Do you need sportswear? A special pair of shoes? A thick jacket? You can put on your heaviest or most space-guzzling clothes on on the flight and thus save a little space and weight in your suitcase. It is important that you pack clothes you can combine nicely. A cute summer dress is airy enough for a hot lunch and combined with a blouse perfect for the evening. I have to admit that I rarely travel longer than ten days with only hand luggage, because I like to have room in my luggage for souvenirs and also enough clothes. But even a longer journey is no problem, as nowadays you can wash anywhere in the world or you can find laundrettes and in case of need you should always have a hand washpaste with you, for which you only need a sink. The next important advice is: Roll it up! Sounds funny, but it's real. If you roll your clothes, this not only has the advantage that they remain wrinkle-free as far as possible, but they also take up considerably less space.
I always stow my shoes in shower caps when travelling. Either a pair or one shoe per cap – depending on how they fit better into the suitcase. The shower caps are usually so robust that I can use them for years.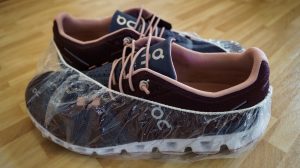 Do you have any other tips I forgot to list here? Then I'm really happy about your comment!