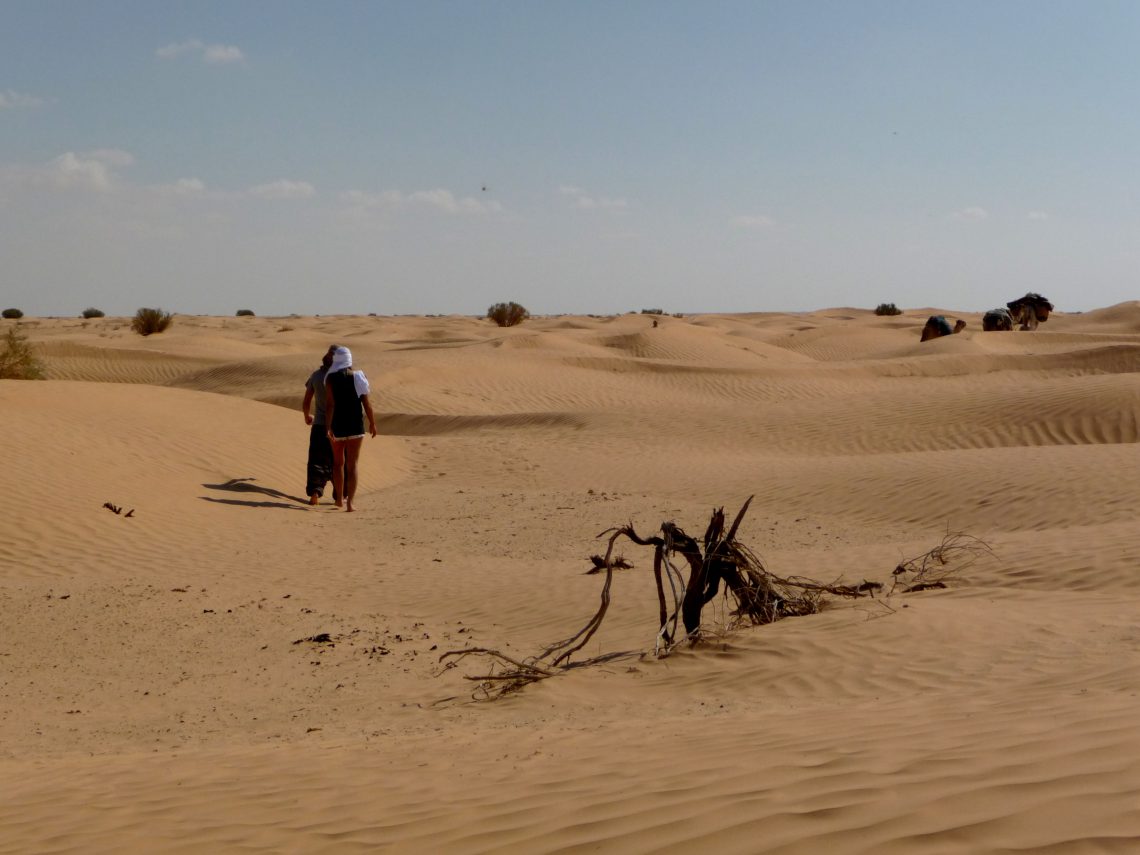 Sahara – English version
30. November 2019
Walking on foot through the desert with six dromedaries, three accompanying Bedouins – born and raised in the Sahara, food and water for the next twelve days, your father, your older brother and your younger sister. Oh yes… armed with a satellite telephone in case of an emergency, it sounds like the beginning of an adventure. Now, when I also tell you that we walked along the Libyan border at a time when the Foreign Office warned not only about travelling to Libya itself, but specifically around the border region, it all starts to sound even more dramatic. But to be honest, we didn't have any near-death experiences – except maybe me, when I had to have a thorn "operated" out of my foot in the middle of the desert. It had drilled itself deep into my foot and was removed with a knife which was only good enough to peel potatoes. From that moment on I know what pain really feels like.
Unfortunately I can't tell you exactly which route we took, so I'll just tell you about my impressions, which in this case are much more expressive.
The Sahara has an almost limitless variety of landscapes, and that's only in the relatively small part we were able to explore. We were there during Halloween, so the days were hot and the nights still bearably cool. Sweaters, long jogging trousers and sleeping bags were indispensable as we slept in the sand under the starry sky, no tent to warmly surrounding us. A marvellous dream! You won't see a starry sky like this again in your life. On top of that we were very lucky because a meteor shower swept over us and we saw about 40 shooting stars each night.
We travelled for miles and miles across endless orange-red sand dunes, passing breathtaking little oases, and hiking over stones so sharp that even the Bedouins jumped on the dromedaries. We could not help but be amazed by all these wonders.
We deliberately chose to travel at that time of year because most dangerous animals, such as scorpions, are already in hibernation. Nevertheless you have to be careful because there are still some snakes hiding in the sand. They are not normally deadly, but without a car the way out of the desert takes so long that they would be, being unable to get an antidote in time. Watch your steps and trust your bedouin! In order to show us these lovely creatures in more detail (and to release them into freedom, safely out of reach), they couldn't resist to keep them – temporarily – under control for us with their wooden sticks… help!
All the food and water we consumed for those 12 days was carried by the dromedaries. We woke up every morning with the first rays of sunshine, breakfasting on the bread we had baked beneath the sand under embers with which we boiled water for tea. Before noon, after the first few kilometers, we had biscuits and a small cup of cola to recharge our batteries. At noon and in the evening we cooked various dishes together using couscous, and had to drink about 4 litres of water a day to avoid dehydration. These incredibly powerful animals carried all our supplies for us day after day.
Therefore it was strictly regulated that before we eat, cook, build our camp or make fire, we saddle the dromedaries, tie their forelegs together (so they can't run away at night but can still move freely) and prepare their food. Only when they were taken care of did we take care of ourselves.
How did we pass the time without a smartphone and without getting bored? We learned Arabic words, taught German, played "desert games" with everything the dry earth had to offer, enjoyed the beautiful silence – and above all – each other's company.
We spent our last night in an oasis, surrounded by a small desert village. Since we couldn't take a shower for twelve days and the water was only meant for drinking and brushing our teeth, we were all the looking forward to a bath in the water… all except me. Since the village was very Muslim, it would have been disrespectful to jump into the oasis there, and probably even more so as a woman in bathing clothes. Well. I could endure the one extra day by looking forward to showering at the hotel. The desert air is filled with a very dry heat, so dry that one almost does not sweat, even though it is over 40° degrees hot. Even I, a big fan of personal hygiene, can say that it is absolutely bearable to survive this time unshowered. For the occasional refreshment, there are biodegradable hygienic wipes available at the drugstore, but please take them with you from the desert and dispose of them at home where appropriate.
On the way to the hotel we had to make a detour to visit Anakin …
… and the UNESCO World Heritage Site, where we drank tea with the inhabitants in their sandstone houses.
Almost two weeks without a mobile phone, Facebook and other distractions had a very healing effect. For me there is no better feeling than to lose all sense of time. However, accessibility also has its right to exist. When we reached civilization after the twelve days and switched on our mobile phones for the first time again, the most terrible and lasting news of my life so far was waiting for me. My stepdad, who was always more for me than "the new man at my mother's side" or a simple friend, had incurable lung cancer. In April 2016 his body freed itself from its pain and since then not a day goes by without me painfully missing him. But what good would it have done if this news had reached me earlier? So this journey ended up shaping me in another way. Twelve days away from civilization and the tangible awareness that one is not immortal taught me much more than humility and happiness, they taught me above all the courage to want to experience the world even more intensely.
Das könnte dich auch interessieren
22. Oktober 2022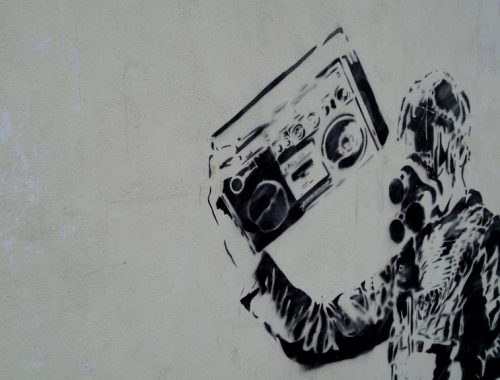 1. Mai 2019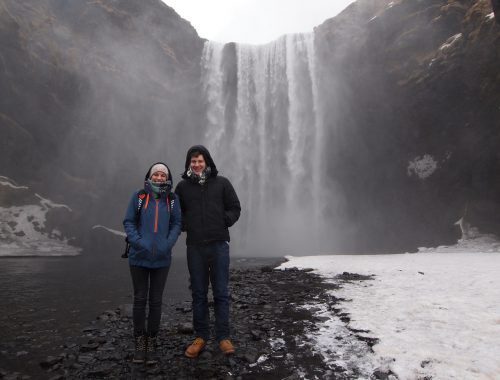 14. Oktober 2017