It is not always easy to simply leave your footprints while travelling, but in many countries it is even more important. Hardly any other country in the world has the privilege of offering such good educational opportunities in sustainability as we do in Germany can take advantage of.
It is so often said that travelling transforms people, that sometimes you just want to roll your eyes. Unfortunately I have to tell you that travelling really do transforms us. Travel reveals new perspectives, lets you immerse yourself in new worlds and get to know new emotions that you really didn't know you had before. Travelling also creates new consciousness. Awareness for yourself, for your fellow human beings, for what is really important and also for the environment. Of all the places I have been allowed to visit and the cultures that have shown me their world, at one time or another I would like to be able not only to tell about and show photos to my future generations. I additionally want to give them a chance to see it with their own eyes!
It is only possible to preserve all the beautiful places and cultures of this earth if we all work together – and if it is only small things. For this reason I try to list all the tips & tricks that will make it easier for you to travel sustainable. Since the list will not be complete so quickly and there always are new little things that you can do, I am very happy about your ideas in the comments.
Before I forget: What is sustainable abroad is also at home 🙂
0. Compensating CO2 emissions
I know, I know, I know. Compensating your CO2 emissions is not the same as not flying at all. I knoooow. However, despite flying I have a very low Ecological Footprint (5,99 tons – still room for improvement), because I consciously ensure to take care of many things in my everyday life. Because I can't hold back my curiosity for the world, I treat myself to the luxury of travelling. This makes it even more important for me to compensate every single one of my flights via websites such as ClimatePartner or Atmosfair. For a flight from Stuttgart to Hamburg this is about 10€ (a distance that I usually travel by train) and for a flight from Munich to Namibia round about 60€ – absolutely adequate in relation to the ticket price.
1. Very simple, very effective: (virgin) plastic sucks.
Most plastics are simply unnecessary. Why are bananas or oranges again individually packed in plastic? They already have a peel. Or why does the apple, already packed in plastic, have to be packed again in a plastic bag to go in the backpack? Well. You know what I'm trying to get at. Of course, plastic-madness cannot be avoided in many countries, but it can at least be limited. Take a Juuuute with you on holiday and at least leave out the plastic bags. Since there are often only 0.5L water bottles or 5L (and more) water canisters to buy in regions such as Southeast Asia and the tap water is absolutely not drinkable, I bought drinking bottles, which can be filled via the water canisters and thus save at least a little plastic. These bottles are also foldable (as I ususally like to travel with little luggage only), leak proof and of course BPA free.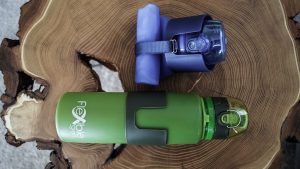 2. Saving towels, water and electricity
Just act like you're at home. You don't wash your towels every day, do you? Hang towels and don't place them on the floor, turn off the water while brushing your teeth or soaping your hands and pull the charging cable out of the socket as long as you no longer need it. Many countries have an acute water crisis and the water you are wasting is then missing in the daily lives of the local people. And the mains voltage abroad is rarely as stable as it is in Germany. So before the fuses blow and you have to replace them, it's better to plug in your mobile phone after blow-drying your hair or simply let your hair air-dry – it's better for them anyways. BTW: The air conditioning also works when you turn it on as soon as you get back. It doesn't have to run empty all the hours.
3. Shopping locally and giving tips
Buying from local traders not only has the advantage of again saving a lot of plastic, as the fruits are not individually packaged on the market, but the inhabitants of the country are also supported so that they can secure their livelihood. In addition, the product does not come from the other side of the world, but has only a few metres of transport distance covered. Another important aspect in this context is tiping. This also helps the local peeps to secure a livelihood for themselves and their families. €1.00 does not hurt us in our travel budget, but in other countries it is often almost a daily wage. However, there are also countries in which the tip has already been added to the total amount as a service or tourist fee (e.g. Russia), or tip giving is even rude. At this point #10 comes into action 🙂
4. Avoid torturing animals and tourism activities
A topic that is really close to my heart is to avoid activities like elephant riding, tiger petting or taking selfies with koala bears. These are ALWAYS tied to torture and unbelievable cruelty to animals – no matter what you are told! You can find out more about these topics on countless web pages online. Learn to say no! Even if the little girl looks so cute and needy, who stands in front of you and lets the monkey dance. You alone decide about your actions and whether you want to support immoral and questionable attractions – especially for tourists founded and that have nothing to do with the true culture of the country. Do you love animals and spending time with them? Then why not visit an elephant recovery station rather than riding them?
5. Straws and plastic cutlery
In fact, disposable straws and plastic cutlery are among the most unnecessary inventions in the world. Okay, that was too hard. But they're both really polluting. The lifespan is about 10 minutes, depending on the eating speed, and the level of pollution they cause to not only the oceans is certainly not to be outweighed. Therefore always in my hand luggage: Göffer. A combination of fork (Gabel), spoon (Löffel) and knife (Messer) that was originally intended to make camping easier. But it's also the best – always reusable – companion on the road.
6. Quality instead of quantity
It really doesn't have to be a 0.50ct T-shirt from Primemark or the overpriced "I ♥ Mallorca" shirt from the cheap tourist-shed by the beach. After washing them twice they are both damaged anyways. Those who would like to have a lasting souvenir from their holiday should rather pay a visit to the tailor nearby. This is where the money stays with the one who does the work and doesn't have to be passed on to junk-empires. So the hand-woven scarf from a Balinese aboriginal village not only has a future, but also tells a wonderful story that you can carry with you every day.
7. Local transport or the good old bicycle
It does not have to be the cab for each route, the scooter or an Uber. Often you are even faster with a tram or subway, and of course much cheaper, travelling in metropolises. If you have some time, it can also be very nice and relaxing to rent bicycles and explore the area with them. Of course, you can rarely do without the most ecologically harmful vehicle: the plane. But here, too, you can make a small contribution to the environment: You can now compensate your CO2 emissions. These are calculated by different organizations and can be compensated at least a little bit in donations to environmental organizations. By the way, many buses and other transportation facilities also offer this compensation.
8. Benefiting from the digital age
Nowadays we always carry one device with us: the smartphone. You really don't have to print out all the boarding passes you get from the online check-in or hotel booking confirmations, you can just save the PDF on your smartphone. If you want to make sure to have access to your booking confirmations when- and wherever you are and are afraid that the e-mail could get lost or that the battery dies, you can also save it to your dropbox and access it from anywhere. Google Maps also offers the free of charge feature to save maps offline. If you safe the visited country offline in Germany in advance, you will not have to take a haptic map with you. All of this not only saves paper, but also luggage.
9. Set an example
I can hardly count how often I have been looked at crookedly abroad when I negated the plastic bag whilst shopping. In many places people simply don't know what pollution means due to a lack of education. So your job is: Setting an example and educate as often as possible, hoping that even the smallest change can be accomplished.
10. Get informed!
When it comes to sustainability, too, the top priority is to keep yourself informed. Does the country currently have a water shortage? Should you avoid unnecessary use of electricity? What is the general situation? Answering all these questions helps you to support the country locally, to protect the environment and to not make everyday life unnecessarily difficult for the inhabitants.
11. Bring special waste back home with you
In very few countries waste is recycled as well as in Germany. Therefore you should simply take special waste, such as batteries, back home with you and dispose them there. Even packaging waste that you already have before your trip can be disposed in the Gelber Sack before your travels and don't even taken with you.